Saturday, September 23, 2006
Some of my covers in a slideshow:

Thursday, September 21, 2006
Some friends of mine rescue neglected/abandoned/abused animals and they have some very special dogs for adoption right now. I've met them and I must say they are all exceptional pooches -- very friendly and affectionate. I just love them all!!
They have been neglected in the past (but not abused). These days they've been pampered, seen to numerous times by vets, spayed/neutered, and microchipped. They're all healthy, happy and looking for Forever Homes!
If you live in Southern Indiana, Southern Illinois, Southern Ohio, Kentucky or Tennesee and might be interested in adopting one of these dogs, email me at anyabast (at) yahoo.com and I'll get you in touch with the proper folks. They can tell you more about each individual dog.
These dogs are looking for stable, loving homes where they will always have enough to eat, people to scratch their bellies and take them for walks. They want people who will commit to them seriously. So please
don't
inquire unless you are able to give them that!!!!
The foster parents have spent a lot of money on vet care, so that part is finished. They are also willing to drive them to their new homes, though you would probably want to make the trip to visit the dogs first!
Without further ado...
Slacker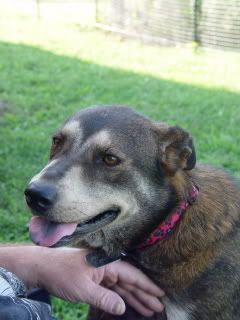 Raja -- (this one is SUCH a love sponge)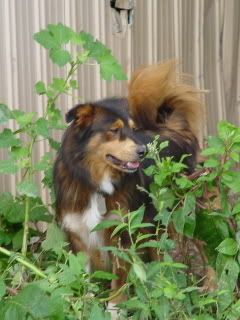 Pixie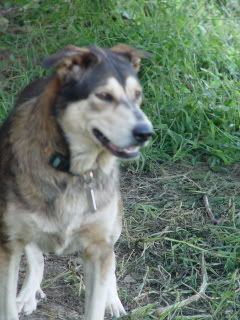 Emily
Minnie

Wednesday, September 20, 2006
I just got a piece of spam with the subject line: leeringfkts Girlnqtz Bending Overron!!! Took me a while to figure to figure it out... Leering Girls Bending Over!!!!
Er. I guess. I'm not opening it up to find out if I was right, that's for certain.
In non-spamish news... (well, maybe this is spam. All is in the eye of the spam beholder), I've been getting fantastic feedback from readers in private emails and in reviews for Edge of Sweetness. This makes me happy because, 1.) it was my first BDSM story and 2.) it was my first EC quickie. Short stories are more difficult for me to write than long ones.
eCataromance (Sensual)
Five Stars
"This story was really fascinating, with two leading characters with whom the reader can both readily identify and sympathise. Ben and Savannah are realistic personalities, and even in this short quickie, the author delineates their deeper selves. I really appreciated the emphasis on the immediate connection of their first meeting, and then the long wait of six months until they find each other again. All in all, I highly recommend this to every reader!"
~ Annie_Kudzu
~*~*~*~
Coffetime Romance
4 cups
"I enjoy well-written tales of dominance and submission. This book is an excellent example of this exciting genre. I really like Ms. Bast's particular writing style. She has a way with words that completely stimulates my imagination. If you like the BDSM genre, then give this sensational story a try. You will be glad you did."
~ Susan White

Sunday, September 03, 2006
I've had a lot of great reviews so far for
my BDSM quickie, Edge of Sweetness.
Here are a few:
Just Erotic Romance Reviews
Reviewer: Marcy Arbitman
Rating: 4 Stars
Heat level: H
"Edge of Sweetness is a book about control and equality, and also a book about self-awareness. Ben thinks that he is totally in control and prepares to teach Savannah how to release her self-control without fear. Savannah teaches Ben that he needs more in his life than control. I found the premise fascinating and Ms. Bast fulfills it admirably. The sex is an important part of the plot and is definitely hot and exciting, so much so that I was searching for a toy for use while I read. However, the relationship between the two characters (and the way it changes) pushes the story. Ms. Bast wrote an intriguing story with no need for secondary characters. I was particularly interested in the way both Ben and Savannah learned about themselves and each other. This is a wonderful story. Ms. Bast, you have done it again!"
Just Erotic Romance Reviews
Reviewer: Wendy Cable
Rating: 5 Star
Heat level: O
"Anya Bast uses her belief in love-at-first- sight to create an exciting adventure that allows two people to find what they both want from life. I found the book well written, exciting and very hot... The submission scene is very imaginative and shows the often-overlooked side of BDSM with the thoughts and feelings of both characters. ...I highly recommend this book to any woman who likes the idea of a dominating strong caring man giving a woman what she secretly wants."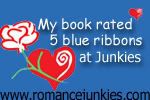 Romance Junkies
Format: EBOOK
Rating: 5
"Anya Bast's EDGE OF SWEETNESS is a thrilling BDSM story full of heart and hope. At only forty-five pages, this is a quickie that won't keep you up all night reading but will sure help contribute to any delightfully wicked dreams you might have. I found it extremely easy to sympathize with Savannah. She's spent years suppressing her need to be dominated because of the expectations of those around her. Ben is absolutely delectable. He's sexy, powerful, with just a hint of vulnerability. Ms. Bast is a fabulous storyteller and I've learned to be on the lookout for anything written by her. This is a perfect read when you want something HOT but don't have a whole lot of time to read."