Wednesday, November 22, 2006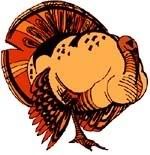 The day before Thanksgiving. Well, we call it "un-Thanksgiving" around here because my father has political problems with Thanksgiving as a holiday (don't ask. LOL). I call it a day where I get together with my family. I love them, despite their many, many, many quirks.
That strange family gathers at our house tomorrow for a huge meal. We generally always do Thanksgiving at our house because we have this huge Amish-made dining room table that sits like twelve people. :) We're also all making donations to the local food bank for Christmastime.
So today I'm cleaning the house and making the sweet potatoes. These are really good sweet potatoes (I just follow the recipe. I take no credit!). If anyone wants the recipe, I can post it.
Every Turkey Day, I get up and watch the Macy's Thanksgiving Day Parade because I LOVE watching the parade. I'm not sure why, but I've loved it ever since I was a kid. Then I start cooking. It's a yearly constant I look forward to.
I'm also writing today. I have so much writing to do! Ack! Today I'm working on the truly stressful bit on my plate -- the proposal for the sequel to Witch Fire. Aaaaaack! *falls over*
So, writing, cooking and cleaning for me today. I'm an erotic domestic goddess. :) :)
Thirteen things I'm thankful for today:
1. That I have a family to cook for tomorrow.
2. For the extra few pounds on my body because it means I have never known hunger.
3. For my husband, who after eleven years, still seems to actually love me as much as I love him.
4. For readers because without them I wouldn't be able to do the thing I most love. You all are extraordinary in your enthusiam, friendliness and openness. Thank you. :)
5. For booksellers. There are some booksellers out there whom I just adore, booksellers who know so much about our genre and infect others with their passion for reading our books. Thank you.
6. That I have access to health care. Seems mundane, but it's something never to be taken for granted.
7. For the personal knowledge that I can only control my own reality and perceptions, no one else's.
8. For the peace in my heart and my ability to accept...because it's the journey that counts.
9. For all my memories and experiences, be they good or bad, and for every single person who has ever influenced them, because they shaped me into the person I am today.
10. For my fur babies because they make me laugh and teach me about unconditional love every single day.
11. For my ability to be content with simple things and not feel a need to always have "bigger" or "better" than someone else.
12. For my friends. I hope I can support them half as well as they support me.
13. For writing. Writing, writing, writing. :)
What are you thankful for?

Tuesday, November 21, 2006
I sold a novella called
The Deal
to Harlequin Spice!! It is a super hot contemporary story about a woman who plays a series of blackjack games for sexual stakes.
It will be in an anthology called
What Happens in Vegas....
along with stories from EC's own Lauren Dane, Jodi Lynn Copeland and Kit Tunstall! It will be released in Spring of 2008.
Whee!
I promise I'll make an honest-to-goddess update tomorrow. I have lots of things to say, just no time to say them.

Congrats to
Lauren Dane
for her two releases today --
Taking Chase
(from Samhain) and
Thrice United
(from Ellora's Cave.
Happy Reading Everyone!

Sunday, November 19, 2006
Holiday Party on the Silver Purr Loop:
We're throwing a Holiday party on Friday, December 8th, 9am to 5pm eastern, on my Silver Purr loop!! There will be lots of yummy excerpts and prizes, great conversation and lots of fun!
If you're not a member, you can sign up here.
Upcoming Chats:


Join me at Writerspace on December 17th at 8 PM EST at
Writerspace
to chat about Gettting Slayed, my novella in the upcoming Ellora's Cavemen: Dreams of the Oasis IV anthology.
The Maverick Authors will be doing our next chat on November 21 at 8:30 pm eastern. Come and join us
in the chatroom at our website
. We'll be giving away prizes as usual and having a great time chatting.

Tuesday, November 14, 2006
I'm back from ten days in Europe!!! It's so good to be home. Crawling into my warm, soft bed last night surrounded by my purring kitties after a very, very long journey was better than sex. I'm sick (of course). I have a sore throat, fever and a sinus infection from a combo of cold weather, not enough sleep and a delicious yet not very healthy diet.
Kids, do not attempt 12 hours total in an airplane with a sinus infection. It is a.) very, very, very, very uncomfortable and b.) dangerous because of the pressure changes. I'm just glad I'm home.
Here are some pictures from our day in Gay Paris!!!
We got up at O dark hundred took the Talys (High-speed train) from Brussles to Paris. We arrived at the Gare du Nord where we hopped onto the metro that let us out on the Rue de Rivoli, which is a street near the Louve with a lot of shops and stuff. When we reached the Rue de Rivioli we spied a brassier on a corner and ducked in for a petit dejeuner aka breakfast. That's my husband and I enjoying hot chocolate, croissant and some cereal.
L (our friend who came with us) and my husband enjoying same.
After that we walked down the Rue de Rivoli to the Louve, walked around a bit sightseeing, then caught a bus that goes around to all the major sights of Paris. You can get on and off as you choose, so it was a good deal for us since we only had one day here. We went to Notre Dame and then to......
The Eiffel Tower from the museum plaza across the street, taken from the top of the bus and with a tad of L's hair.
Me and my husband at the foot of the Eiffel Tower.
L got this shot of us kissing at the base.
Taken from the second tier of the Eiffel Tower. It was very hazy that day (and cold!!!) so we didn't go all way to the top. You couldn't see anything from up there because of the crappy conditions.
After that we hopped back on the bus and went to the Place de la Concorde, the Champs-Elysees and the Arc du Triomphe. The traffic circles around the Place de la Concorde and Arc du Triomphe are enough to give a person a heart attack, by the way.
Then we hopped out somewhere near L'Opera and got some lunch in a very smoky cafe. The smoke over there is incredible. We're so spoiled with the no smoking laws here in the US. I felt like I was smoking a pack a day. I'd forgotten about that little bit of nastiness.
My husband and L at lunch in Paris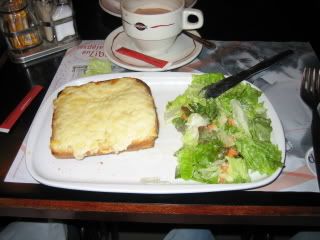 My lunch -- a Croque Monsieur and a salad.
Then we abandoned the bus for the Metro and headed to my favorite place -- Monmartye. Here is a shot of L and my husband in front of the Basilique de Sacre Coeur.
We sat in a little outdoor cafe and had wine, mine was mulled and deliciously warmed, while L....
... had her portrait done by one of the many artists in the square.
God, we were tourists from Hell. It was great.
Then we hopped the Talys again.....
...missing la Greve (a strike) by the train workers by mere hours. Since we were so close to strike time, the train was slower (on purpose, so the workers could make their point) and they kept flicking the lights off.
We got back to Brussles at almost midnight totally exhausted from over 13 hours on foot in Paris, but my mother-in-law (who picked us up from the train station) insisted on buying us a beer at a pub in the Grand Place.
"Please, the beer is wonderful, but we want to sleeeeeep!!"