Sunday, September 03, 2006
I've had a lot of great reviews so far for
my BDSM quickie, Edge of Sweetness.
Here are a few:
Just Erotic Romance Reviews
Reviewer: Marcy Arbitman
Rating: 4 Stars
Heat level: H
"Edge of Sweetness is a book about control and equality, and also a book about self-awareness. Ben thinks that he is totally in control and prepares to teach Savannah how to release her self-control without fear. Savannah teaches Ben that he needs more in his life than control. I found the premise fascinating and Ms. Bast fulfills it admirably. The sex is an important part of the plot and is definitely hot and exciting, so much so that I was searching for a toy for use while I read. However, the relationship between the two characters (and the way it changes) pushes the story. Ms. Bast wrote an intriguing story with no need for secondary characters. I was particularly interested in the way both Ben and Savannah learned about themselves and each other. This is a wonderful story. Ms. Bast, you have done it again!"
Just Erotic Romance Reviews
Reviewer: Wendy Cable
Rating: 5 Star
Heat level: O
"Anya Bast uses her belief in love-at-first- sight to create an exciting adventure that allows two people to find what they both want from life. I found the book well written, exciting and very hot... The submission scene is very imaginative and shows the often-overlooked side of BDSM with the thoughts and feelings of both characters. ...I highly recommend this book to any woman who likes the idea of a dominating strong caring man giving a woman what she secretly wants."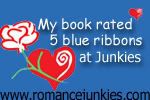 Romance Junkies
Format: EBOOK
Rating: 5
"Anya Bast's EDGE OF SWEETNESS is a thrilling BDSM story full of heart and hope. At only forty-five pages, this is a quickie that won't keep you up all night reading but will sure help contribute to any delightfully wicked dreams you might have. I found it extremely easy to sympathize with Savannah. She's spent years suppressing her need to be dominated because of the expectations of those around her. Ben is absolutely delectable. He's sexy, powerful, with just a hint of vulnerability. Ms. Bast is a fabulous storyteller and I've learned to be on the lookout for anything written by her. This is a perfect read when you want something HOT but don't have a whole lot of time to read."
Comments: