Thursday, December 28, 2006
I have moved! Mostly because WordPress runs Big Bloggity Circles around Blogger.
Kindly redirect your links to: http://anyabastblog.com/
If you're not instantly redirected,
please go here for my blog.

Thank you!!

Friday, December 22, 2006
Tagged by that voluptous mistress of erotic romance,
Lauren Dane
.
Five Crazy Things About Me Meme.
1.) I will react violently and involuntarily if anyone puts their hands around my throat. I can't stand turtlenecks or chokers either.
2.) When I was three I plucked a big hairy spider off the side of the house and ate it. The folklore in my family is that's why I became a writer (that whole "spinning a web" thing).
3.) We have eight cats (and one well-pampered outdoor moocher) because stray felines seem to have Sucker Radar, upon which we shine vibrantly.
4.) I took years of Russian language, but all I can say is "Here is St. Basil's Cathedral".
5.) I am a frequent lucid dreamer and often "wake up" in the middle of nightmares...which sucks.
It's really scary how easy that meme was to do. I'm just sayin'
I tag...
Patrice Michelle
, and
Daisy Dexter Dobbs

Tuesday, December 19, 2006
Ellora's Cavemen: Dreams of the Oasis Volume IV -- by, Anya Bast,Charlotte Boyett-Compo, Lena Matthews, Kris Starr, N.J. Walters & Ravyn Wilde
Reviewed By: Elise Logan for Romance Divas
"I love these anthologies – if for no other reason than they introduce you to a number of authors you might not otherwise read. In this collection, the stories run from fantasy to contemporary; from paranormal to the guy next door. The stories are very strong individually, with Anya Bast's Getting Slayed and N.J. Walters' Shadows Stir being the strongest offerings."
Getting Slayed by Anya Bast
Bast's contribution is one of the most entertaining stories I've read in a long while. It's a definite twist on the "hero slays dragon to win the princess" fairy tale, and it is by turns hilarious and hot.
Dreams of the Oasis IV releases on Thursday, December 21st at
Ellora's Cave
!!

Friday, December 15, 2006
My husband and I recently had a series of immunization shots in preparation for a trip to a developing country:
My husband: "My arm hurts."
Me: (teasing) "Oh, poor baby. You're so fragile. You're like a leetle flower who needs many kisses."
My husband: (stares for a moment) "That's so wierd. I was just about to (jokingly) say the exact thing. I mean the
exact
same thing."
This isn't an uncommon thing for us. It's like we read each other's mind without even knowing we're doing it. Do you do that with your spouse? I'm interested to know. :)
~*~
In other news....
Witch Fire publication date has been moved up to June 2007!! Whee!!!!
I'm so excited for you all to read about Mira and Jack. I enjoyed writing their story so much. I think my characters are what I love most about writing. I fall in love with them. I hope you will too.
I am planning to soon add an excerpt of Witch Fire to my web site, so watch for that to appear within the next few days.

Wednesday, November 22, 2006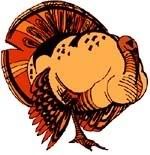 The day before Thanksgiving. Well, we call it "un-Thanksgiving" around here because my father has political problems with Thanksgiving as a holiday (don't ask. LOL). I call it a day where I get together with my family. I love them, despite their many, many, many quirks.
That strange family gathers at our house tomorrow for a huge meal. We generally always do Thanksgiving at our house because we have this huge Amish-made dining room table that sits like twelve people. :) We're also all making donations to the local food bank for Christmastime.
So today I'm cleaning the house and making the sweet potatoes. These are really good sweet potatoes (I just follow the recipe. I take no credit!). If anyone wants the recipe, I can post it.
Every Turkey Day, I get up and watch the Macy's Thanksgiving Day Parade because I LOVE watching the parade. I'm not sure why, but I've loved it ever since I was a kid. Then I start cooking. It's a yearly constant I look forward to.
I'm also writing today. I have so much writing to do! Ack! Today I'm working on the truly stressful bit on my plate -- the proposal for the sequel to Witch Fire. Aaaaaack! *falls over*
So, writing, cooking and cleaning for me today. I'm an erotic domestic goddess. :) :)
Thirteen things I'm thankful for today:
1. That I have a family to cook for tomorrow.
2. For the extra few pounds on my body because it means I have never known hunger.
3. For my husband, who after eleven years, still seems to actually love me as much as I love him.
4. For readers because without them I wouldn't be able to do the thing I most love. You all are extraordinary in your enthusiam, friendliness and openness. Thank you. :)
5. For booksellers. There are some booksellers out there whom I just adore, booksellers who know so much about our genre and infect others with their passion for reading our books. Thank you.
6. That I have access to health care. Seems mundane, but it's something never to be taken for granted.
7. For the personal knowledge that I can only control my own reality and perceptions, no one else's.
8. For the peace in my heart and my ability to accept...because it's the journey that counts.
9. For all my memories and experiences, be they good or bad, and for every single person who has ever influenced them, because they shaped me into the person I am today.
10. For my fur babies because they make me laugh and teach me about unconditional love every single day.
11. For my ability to be content with simple things and not feel a need to always have "bigger" or "better" than someone else.
12. For my friends. I hope I can support them half as well as they support me.
13. For writing. Writing, writing, writing. :)
What are you thankful for?

Tuesday, November 21, 2006
I sold a novella called
The Deal
to Harlequin Spice!! It is a super hot contemporary story about a woman who plays a series of blackjack games for sexual stakes.
It will be in an anthology called
What Happens in Vegas....
along with stories from EC's own Lauren Dane, Jodi Lynn Copeland and Kit Tunstall! It will be released in Spring of 2008.
Whee!
I promise I'll make an honest-to-goddess update tomorrow. I have lots of things to say, just no time to say them.

Congrats to
Lauren Dane
for her two releases today --
Taking Chase
(from Samhain) and
Thrice United
(from Ellora's Cave.
Happy Reading Everyone!

Sunday, November 19, 2006
Holiday Party on the Silver Purr Loop:
We're throwing a Holiday party on Friday, December 8th, 9am to 5pm eastern, on my Silver Purr loop!! There will be lots of yummy excerpts and prizes, great conversation and lots of fun!
If you're not a member, you can sign up here.
Upcoming Chats:


Join me at Writerspace on December 17th at 8 PM EST at
Writerspace
to chat about Gettting Slayed, my novella in the upcoming Ellora's Cavemen: Dreams of the Oasis IV anthology.
The Maverick Authors will be doing our next chat on November 21 at 8:30 pm eastern. Come and join us
in the chatroom at our website
. We'll be giving away prizes as usual and having a great time chatting.